CommuniGate Pro Servers in a Dynamic Cluster do not use Operating System/File System locks to synchronize Account access operations. Like in a Static Cluster, only one Server in a Dynamic Cluster has direct access to any given Account at any given moment. All other Servers work through that Server if they want to access the same Account. But this assignment is not static: any Server can open any Account directly if that Account is not opened with some other Server.

This architecture provides the maximum uptime: if a Backend Server fails, all Accounts can be accessed via other Backend Servers - without any manual operator intervention, and without any downtime. The site continues to operate and provide access to all its Accounts as long as at least one Backend Server is running.

One of the Backend Servers in a Dynamic Cluster acts as the Cluster Controller. It synchronizes all other Servers in the Cluster and executes operations such as creating Shared Domains, creating and removing accounts in the shared domains, etc. The Cluster Controller also provides the Single Service Image functionality: not only a site user, but also a site administrator can connect to any Server in the Dynamic Cluster and perform any Account operation (even if the Account is currently opened on a different Server), as well as any Domain-level operations (like Domain Settings modification), and all modifications will be automatically propagated to all Cluster Servers.

Note: most of the Domain-level update operations, such as updating Domain Settings, Default Account Settings, WebUser Interface Settings, and Domain-Level Alerts may take up to 30 seconds to propagate to all Servers in the Cluster. Account-Level modifications come into effect on all Servers immediately.

The Cluster Controller collects the load level information from the Backend Servers. When a Frontend Server receives a session request for an Account not currently opened on any Backend Server, the Controller directs the Frontend Server to the least loaded Backend Server. This second-level load balancing for Backend Server is based on actual load levels and it supplements the basic first-level Frontend load balancing (DNS round-robin or traffic-based).

When a Dynamic Cluster has at least 2 backend Servers, the Cluster Controller assigns the Controller Backup duties to one of the other backend Servers. All other Cluster members maintain connections with the Backup Controller. If the Backup Controller fails, some other backend Server is selected as a Backup Controller.

If the main Controller fails, the Backup Controller becomes the Cluster Controller. All Servers send the resynchronization information to the Backup Controller and the Cluster continues to operate without interruption.

While the Dynamic Cluster can maintain a Directory with Account records, the Dynamic Cluster functionality does not rely on the Directory. If the Directory is used, it should be implemented as a Shared Directory.

A complete Frontend-Backend Dynamic Cluster configuration uses Load Balancers and several separate networks: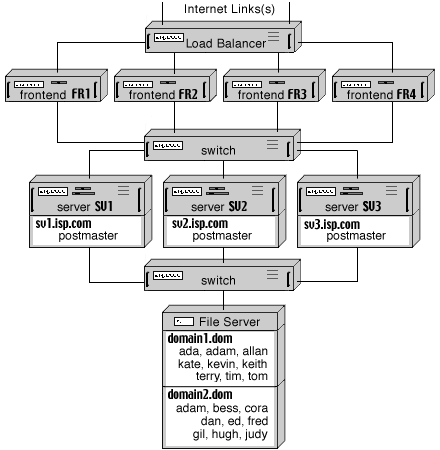 Since all Backend Servers in a Dynamic Cluster have direct access to Account data, they should run the operating systems using the same EOL (end-of-line) conventions. This means that all Backend Servers should either run the same or different flavors of the Unix OS, or they all should run the same or different flavors of the MS Windows OS. Frontend Servers do not have direct access to the Account data, so you can use any OS for your Frontend Servers (for example, a site can use some Unix OS for Backend Servers and Microsoft Windows for Frontend Servers).