WebUser Interface sessions, Rules, MAPI sessions, and other modules and components can generated E-mail messages on Backend Servers.

Backend Server often do not have direct access to the Internet, in this case they cannot deliver generated messages to remote systems. To solve this problem, the Backend Servers can be configured to relay all messages to the Frontend Servers first, using the * symbol as the SMTP Forwarding Server name.

In this case the message is submitted to the Backend Queue, where it is processed using the Server-wide and Cluster-wide Rules, and if it is not directed to a local recipient, it is directed to the SMTP module which sends it to one of the Frontend Servers: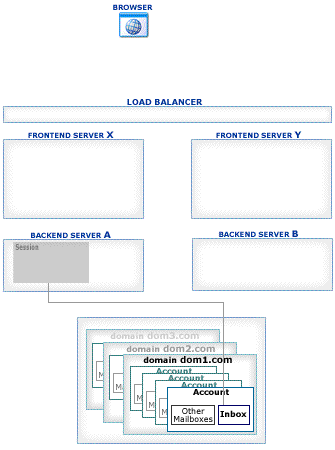 In this setup, each messages generated on a Backend Server is processed twice. If Cluster Rules invoke content management Plugins, double-processing can create a substantial overhead. To avoid this overhead, the Remote Queue processing method can be used.